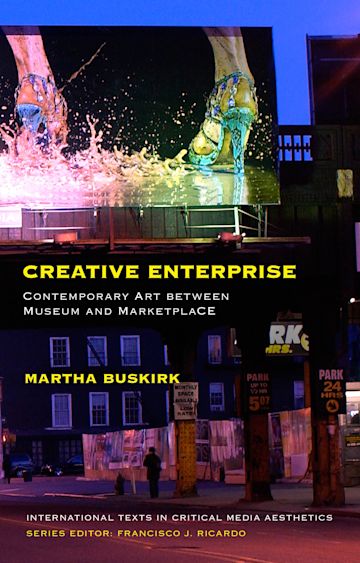 Creative Enterprise
Contemporary Art between Museum and Marketplace
Martha Buskirk
In the face of unparalleled growth and a truly global audience, the popularity of contemporary art has clearly become a double-edged affair. Today, an unprecedented number of museums, galleries, biennial-style exhibitions, and art fairs display new work in all its variety, while art schools continue to inject fresh talent onto the scene at an accelerated rate. In the process, however, contemporary art has become deeply embedded not only in an expanding art industry, but also the larger cultures of fashion and entertainment.
Buskirk argues that understanding the dynamics of art itself cannot be separated from the business of presenting art to the public. As strategies of institutional critique have given way to various forms of collaboration or accommodation, both art and museum conventions have been profoundly altered by their ongoing relationship. The escalating market for contemporary art is another driving force. Even as art remains an idealized activity, it is also understood as a profession, and in increasingly obvious ways a business, particularly as practiced by star artists who preside over branded art product lines.