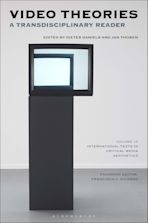 Video Theories: A Transdisciplinary Reader
Edited by Dieter Daniels and Jan Thoben
Today, video is to be regarded as a ubiquitous medium. At the same time, a video theory has not yet been established in terms of an academic discipline. Hence, in comparison to the more canonized photo, film, and television theories, Video Theories breaks new ground. For the first time, this transdisciplinary reader on Video Theory will give a summary of fifty years of theoretical and artistic reflections on the topic, accomplished by scholarly introductions and a collection of annotated source texts.